In the book of Revelation and the book of Daniel, we read about mythological beasts that come out of the sea, the earth and the bottomless pit. To many, the prophetic messages in these books, seem strange and makes little sense. Why did God give such seemingly unclear prophecies and what was the purpose of them? The revelations were given for one simple reason, to show God's true servants the future at the same time hindering their enemies the same insight.
«The Revelation of Jesus Christ, which God gave unto him, to shew unto his servant's things which must shortly come to pass; and he sent and signified it by his angel unto his servant John:» (Rev.1:1)
Code language is always made for them to be understood by the allies but at the same time difficult to unfold or break for the enemy. The Book of Revelation is in code language, a secret language from God to His servants. The book of Revelation has a systematical structure and gives the following information:
It tells what would happen with the Christians from the time of John and till Christ second coming.
It tells us who God's servants are and who their main-enemies is, will be and what they will do to whom.
It tells about powers that will weaken the power of the enemy.
Before I continue It's important to emphasize that all who accept Christ salvation and choose to follow His lead become His children, His people. However, this does not mean that all who profess Christ name has the truth. Even if they convert, many have a false understanding of prophecy and theology based on their bakcground. But God has had elected light bearers throughout time. And this is our focus in this chapter. Salvation isn't dependent on understanding everything correctly, but this doesn't change that God has elected a lineage of light-bearers. And it's to our benefit to not partake in confusing the minds of men with private interpretations. Understanding prophecy correctly helps us to be prepared for the dangers ahead and to understand the past better. If we understand the principles behind these prophetic books and especially the book of Revelation, it makes more sense why God chose to speak in codes. As many know today there are many different interpretations of both Daniel and Revelation presented by different Church denominations and individuals. The many symbols and prophecies can be interpreted in all kinds of directions if you have vivid imagination and creativity. Many are very clever and makes scripture fit with their ideas perfectly. How do we know who has the key to unlock these codes? The Bible actually reveals who is capable of unfolding the codes. The Apostle Peter reveals:
«Knowing this first, that no prophecy of the scripture is of any private interpretation.» (2.Pe 1:20)
He continues to explain that it is the Holy Spirit that is the author and the code-breaker. But different Christians with different interpretations all claim it's the Spirit that speaks through them and has revealed their interpretation to them. It could be. But not all spirits are of God. «Beloved, believe not every spirit, but try the spirits whether they are of God: because many false prophets are gone out into the world.» (1Jn 4:1)Even here Bible can lead the way out of the confusion and expose who has really been given the spirit that reveals what is actually true. Christ called it «The spirit of truth», and He said that not just anyone could receive it (Joh.14:17). Jesus said: «Howbeit when he, the Spirit of truth, is come, he will guide you into all truth: for he shall not speak of himself; ..he shall take of mine, and shall shew it unto you.» (Joh.16:13 & 15)Because the interpretation of prophecies is revealed by the Spirit, theological education or other education in this world, cannot be used as a criterion for someone knowing what they are talking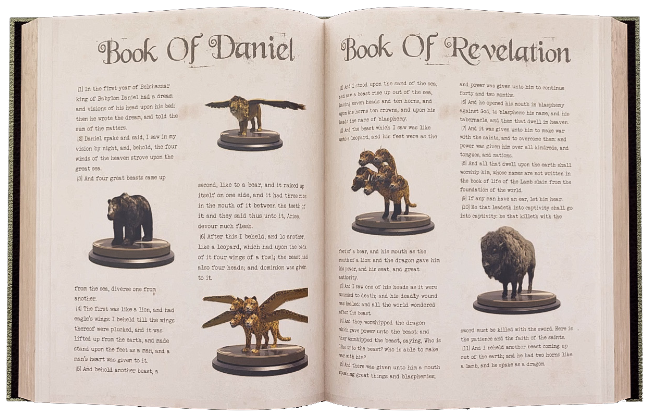 about in this context. In the time of Jesus, even scholars and wise men from the best schools thoroughly investigated and studied scripture and even knew large parts of the text by memory, yet they didn't see that the Man standing right in front of them was the fulfillment of these same prophecies. They couldn't interpret prophecy correctly. It doesn't matter if someone can quote scripture by memory, if they have worked as a pastor or priest for many years or if they have taken all the approved education the field has to offer. The revelation of prophecy belongs to God and only the ones He gives the Spirit of the Truth will present to you the right interpretation. In the New Testament, we saw the devil quoted the bible to deceive Christ in the wilderness. (Luke 4:1-13) The devil can quote the Bible, he knows the Bible. But he turned the quotes to lie by placing them in the wrong context. And this is what many Bible teachers do, they place the prophecies in the wrong context and get a different meaning than the one God intended. Jesus once said:
"Judge not according to the appearance, but judge righteous judgment." (Joh 7:24)
In order to receive the gift of The spirit of truth, Jesus has conditions. In fact, He will not give it to someone who doesn't meet His conditions. Jesus Himself has told us what this condition is and because of that we have the opportunity to see who fulfill these demands. This will also give us a clue as to who has understood the codes correctly, or who we can trust.
Condition 1:
They have to know Him. They have to know God, they have to know Jesus. To know someone is to know who they are, what they stand for, what they are capable of doing and not doing. We, therefore, need to have a close insight into what God says about Himself and His character. Our idea of who God is cannot be based on feelings and guesswork or an «I think God thinks this or that». If we believe God changes opinion after what is politically correct at the time, morals and standards that change from time to time, or that He agrees with whatever is popular to think and feel, well then we don't know Him. According to Himself He never changes. (Mal.3:6; Heb.13:8) God is not a delicate leaf that is thrown back and forth by the wind of our feelings and the opinions of our time or our personal changeable truths. Humans tend to change views of both life and themselves during their lifetime and some are foolish enough to think that God changes along with them.
"For my thoughts are not your thoughts, neither are your ways my ways, saith the LORD.» (Isa 55:8)
To know him is to let Him explain Himself who He is. Many think that if someone is a Christian and have the Bible they know Him. But this conclusion can be unfortunate. Sometimes it is those who are seemingly closest to us, our own family, that are those who misunderstand us the most. A good example is David's older brother. He had known David his whole life. When David came to ask questions about the giant Goliath, David's brother said:
«and Eliab's anger was kindled against David, and he said, Why camest thou down hither? and with whom hast thou left those few sheep in the wilderness? I know thy pride, and the naughtiness of thine heart; for thou art come down that thou mightest see the battle.» (1Sa 17:28)
Davids brother said this to him at a time when God said David was a man after His own heart. He was given characteristics that weren't his, he was a good shepherd. David's brother hinted that he was irresponsible. David wasn't proud, he just wanted to help and defend God's cause and he didn't have a naughty heart at this time. As with the brother of David, a Christian can have lived in the church or congregation and even had a bible close by their whole life, and still, don't know or understand God. It's simple. The way we look at something or someone is strongly connected to how we perceive what we experience. Davids brother's eyes were perhaps clouded with jealousy and self-righteousness and then took whatever was inside him and transferred them unto David. And by doing this, he ended up misunderstanding David's motives and his heart. In order to know someone correctly, and especially God, we need to empty ourselves of self when communicating with Him. Knowledge of God comes from the Bible, but the Bible doesn't give us knowledge on its own. Without the interpreter The Holy Spirit we will read the Bible from our own world-view and the result is that we misinterpret God's character, his purpose, and direction.
Condition 2:
We have to keep His commandments. Jesus said in His speech about the spirit of truth:
«If ye abide in me, and my words abide in you, ye shall ask what ye will, and it shall be done unto you. .. If ye keep my commandments, ye shall abide in my love; even as I have kept my Father's commandments, and abide in his love.» (Joh.15:7 & 10)
Whenever Jesus has something important to say He repeats it.
"If ye love me, keep my commandments. And I will pray the Father, and he shall give you another Comforter, that he may abide with you for ever; Even the Spirit of truth; whom the world cannot receive, because it seeth him not, neither knoweth him: but ye know him; for he dwelleth with you, and shall be in you." (John 14:15-16)
John put condition 1 and condition 2 together and told us how they were connected:
«And hereby we do know that we know him, if we keep his commandments. He that saith, I know him, and keepeth not his commandments, is a liar, and the truth is not in him.» (1Jn 2:3-4) See also: «Ye are of God, little children, and have overcome them: because greater is he that is in you, than he that is in the world. They are of the world: therefore speak they of the world, and the world heareth them. We are of God: he that knoweth God heareth us; he that is not of God heareth not us. Hereby know we the spirit of truth, and the spirit of error.» (1Jn 4:4-6)
We have to be obedient to God if we want to be His servants. If we are not obedient to Him but to any new teaching or of the spirit of this world, we are not qualified to be called God's servants. The apostles had learned this from Christ Himself and Peter said:
«And we are his witnesses of these things; and so is also the Holy Ghost, whom God hath given to them that obey him.» (Act 5:32)
Two places in the book of Revelation, God reveals to us who His servants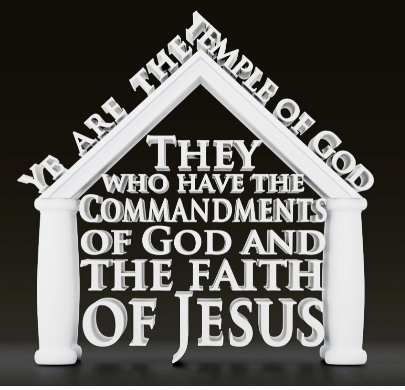 are. They are described as those who keep the commandments of God and have the faith of Jesus. (Rev.14,12 and 12,17) From all of this we, therefore, know that of all those who interpret Daniel and Revelation these are the ones who have the key to crack the codes in this book.- They are God's servants and are obedient to Him.- They are described as keeping the commandments of God but also having the faith of Jesus.- They know God in the sense that they know what He always has stood for or stand for.- They haven't gotten the gift of understanding from universities or wise men, but from Spirit and the Word of God. Still, there are even many who have outwardly these characteristics who are still teaching and forwarding an interpretation that was given at a time when they didn't have these characteristics. Many messianic movements have teachings and interpretations that are taken from a movement that didn't have the commandments of God and the faith of Jesus. Many are also inspired or affected by a prophetic interpretation given by Jews that rejected Jesus as the Messiah. It should be obvious that a group that cannot interpret the simplest prophecies concerning the Messiah doesn't necessarily have the insight to interpret other prophecies correct-ly. and then especially the prophecies concerning Christ second coming. They also lack one of the criteria, the faith of Jesus. They don't have both characteristics. From Revelation was written and unto this day there have been people and groups that have had these characteristics and there-fore have been in a position where they could receive the spirit of truth. They have been separated by time and place but the few testimonies they left behind here and there showed that they un-derstood who God had warned against in Revelation and where they themselves were in the timeline. Many paid attention and took precautions based on the information given there. They un-derstood what was going on just like God said was the intention of the book of Revelation.